News
2018 JINGLE BLADES COMPETITION. REGISTRATION NOW OPEN
posted Sep 7, 2018, 10:35 PM
Jingle Blades Competition: November 23-25, 2018 Mission, BC
Jingle Blades is a fun competition with a very friendly festive feel. Skaters have always enjoyed participating in this competition. The competition SELLS OUT very early after registration opens up so if you would like for your child to take part in this event you need to register them as soon as possible so as not to be disappointed.
If you require information from the coaching team in order to know which level to register for or if you need an MP3 copy of your skater's music please let us know as you will need this to register if you are Star 2 or higher.
You will also need your skater's Skate Canada number.
If you have any questions or assist in registering for the event, please contact Coach Eddy at edikfs@hotmail.com
Registration link: http://www.skatinginbc.com/competitions/competitive/2018-jingle-blades
"WELCOME BACK TO SKATING" FALL SEMINAR
posted Sep 1, 2018, 5:34 PM
SkateCanada BC Coast Region presents "Welcome Back to Skating" Fall Seminar. Join coaches Julie Dunlop, Caroline Mackeen, Anastasia Baikov, Lani-Jo Dickson, and Christine Reyes Belazeney for some fun in edges+turns, creative, jumps, spins and off-ice! Spaces are limited, please register early to avoid disappointment!
Date: Sunday Sept. 16, 2018 Time: 9:45-3:45pm
Location: Killarney Arena Level: Star 3-6
Cost: $25 To Register: Click HERE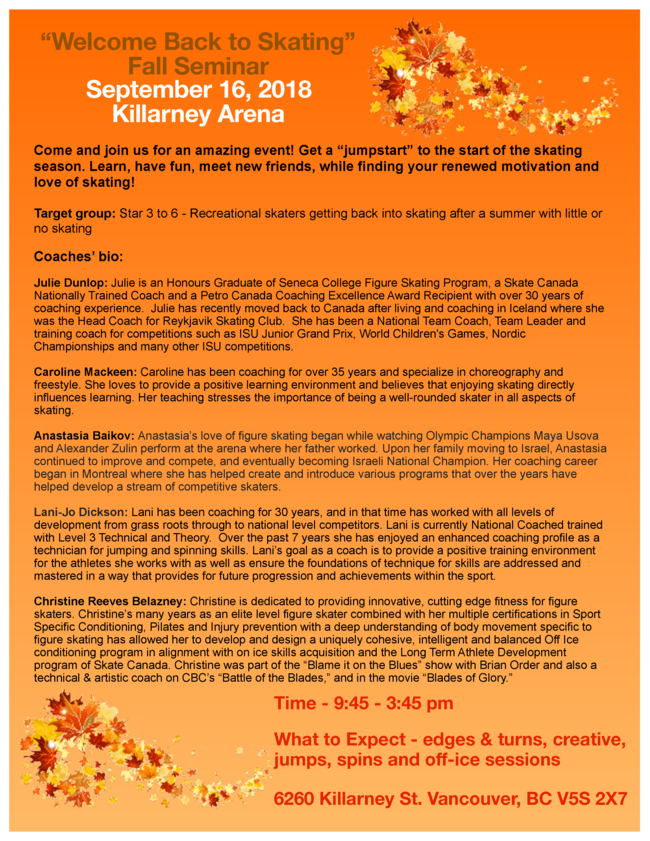 2018 SUPER SERIES AUTUMN LEAVES
posted Aug 31, 2018, 2:45 PM
Online registration is now open
and will close at
11:45 p.m. on Wednesday, September 12,

2018
.
If you have questions about which event to register in, please contact Coach
Eddy
at
edikfs@hotmail.com
Competition dates:
19 October
2018
- 21 October
2018
Location:
McArthur Island Sports Centre
McArthur Island Parkway
Kamloops, BC ,V2B 6Y9
BC COAST REGION SINGLES SEMINAR
posted Feb 13, 2018, 5:39 AM
The BC Coast Region Skater Development Committee is pleased to present the 2018 Singles Seminar with Ben and Jadene Ferreira - March 17, 2018 and/or March 18, 2018
This year, the BC Coast Region is offering 2 days of the annual regional seminar. This year again, the seminar will be hosted by Ben and Jadene Ferreira. They are the coaching team of Skating Success™ Inc. Master Classes that provides a highly focused training environment, which supports and inspires skaters to build their foundation for Skating Mastery, one core element at a time.
The seminar will be help over 2 days and skaters can choose to do 1 day or 2 days.
The Seminar
Day 1 - March 17 - 9 am to 4 pm - Axel Master Class - Full Day focus on Axels and everything in between as far as components
Day 2 - March 18 - 9 am to 4 pm - SNAP Master Class - Salchow, Toe Loop, & Loop Jumps - All 3 jumps with an artistic focus on footwork & composition
The Seminar will take place at the Minoru Arena in Richmond. It will consist of various on-ice and off-ice sessions throughout the day.
Cost: Day1: $75.00 per skater
Day 2: $75.00 per skater
Level: Star 4 to Pre-Novice
About Ben & Jadene
Ben coaches all levels of skaters with an emphasis on technical expertise using Dartfish Video and Kinesio Capture technologies. Ben is a seven-time Canadian National Team Member, a three-time Canadian World Team Member, and a Silver and Bronze medalist at National. Ben had been leading seminars across North America for the past 10 years and has designed the 'Master Class' seminars with SkatingSuccess™.
Jadene is a Contemporary Choreographer of Figure Skating and Dance, a Personal Performance Coach, Stylist/Designer and Make Up Artist. A National Level Choreographer once 2003, Jadene has been also a Seminar and Workshop Leader across Canada. As a former competitive figure skater, achieving Triple Gold and Senior Ladies Competitive Status, along with her many years of dancing in a variety of disciplines, her training and development have given her a diverse skill set to draw from when creating 'Movement Art' both on and off the ice.
To Register
Register Here! for Day 1
Register Here! for Day 2
Spaces are limited so please register early to avoid disappointment!
For further information please contact:
Lyne Rainville - BC Coast Region Skater Development Chair at:
Please be reminded that this is a BC Coast Region Seminar not a BC/YK Section Seminar. Please do not contact the Section office with questions regarding this Seminar. Questions can be directed to the emails above and we will do out best to respond as quickly as possible.