CanSkate
CanSkate is Skate Canada's flagship learn-to-skate program for beginners of any age that teaches fundamental movements and basic skills.
When your child signs up for CanSkate lessons, he/she will be in a program that focuses on fun, participation and basic skill development. The skater will earn badges and other incentives as they learn fundamental skills. Skating Lessons are given in a group format and led by an NCCP certified professional coach. Coaches are assisted by trained Program Assistants.
Skaters progress at their their own rate and do not have to re-register throughout the season.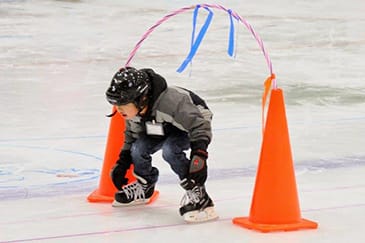 The CanSkate program curriculum is organized into three Fundamental Areas, divided into six stages of learning.
The Fundamental Areas are:
Balance: Concentrating on most forward skills, pushing technique and edges.

Control: Concentrating on most backwards skills, stopping and speed elements.

Agility: Concentrating on most turning and jumping skills.

Three Fundamental Area ribbons for each stage (18 ribbons in total)

Six stage badges
To receive a stage badge, skaters must achieve all Fundamental Area ribbons (Balance, Control and Agility) from the corresponding stage.
Nationally certified coaches specifically trained to teach the mechanics and proper technique of skating lead our program. Coaches are assisted by trained program assistants. CanSkate provides kids with the best foundation for figure skating, hockey, ringette and speed skating. Some of the best skaters in the world learned to skate with CanSkate including Olympic figure skaters, Olympic Speed Skaters Men & Women Olympic hockey players and NHL hockey players.

Tessa Virtue & Scott Moir, Olympic & World ice dance champions.

Patrick Chan, Olympic figure skating medalist & World men's figure skating champion.

Ivanie Blondin, Olympic and World long track speed skater.

Matt Duchene, NHL Colorado Avalance & Olympic Hockey team gold medalist.

Jeff Skinner, NHL Carolina Hurricanes, NHL Rookie of the Year and former Canadian Juvenile men's figure skating medalist.
CanSkate is the most effective way to learn skating through proper technique and personalized progression.
We accept students who would like to skate with our club that have done municipal or school skating, skaters transferring from another club, and new skaters that would like to join our club. Skaters will be assessed on ice by one of our coaches to help find the right coach for each skater.
Please email us at contact@skateburnaby.ca (subject area: CanSkate) if you need any additional information or help with regards to this program.
Required Equipment



All skaters MUST wear:

mittens or gloves

a CSA approved hockey helmet. Bike or ice sports helmets are not permitted. Skaters will not be allowed on any sessions without a hockey helmet.

skates

Guidelines for Skates:

Skates should fit snugly around the ankles and heel.

Skaters should be able to walk with ankles upright.

Skates made of leather/firm material are preferable to moulded plastic.

Lace-up skates are best. Avoid Velcro and buckles.

Second hand skates are fine provided they fit and provide proper support.

Laces need to be done up tightly from toes to snug at top.

NEVER buy skates too big so they last another season. NEVER wrap laces around the top of the boot.